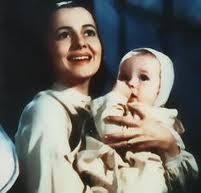 In honor of Olivia DeHavilland's birthday I'm posting one of my favorite photos of her from Gone with the Wind. Here she is on the porch of Tara with Scarlett and Mammy. They are in their works clothes as they are "trying to keep body and soul together" and playing host to the "Confederate Scarecrows" seeking food at their door. At this moment Melanie see's Ashley walking toward Tara and,…well,..you know the rest.
The story of walking home to Tara is found at least once in the history of Margaret Mitchell's family as Robert Kennedy Holliday made the walk home from the north and down the dirt road to the Phillip Fitzgerald House (Margaret's Tara) which was only a few miles from downtown Jonesboro where Holliday's home had stood before the battle. I'm sure he made his way there first to find it a smoldering pile of ashes after the battle had taken its toll, and the Yankees had used what was left for shelter and firewood (according to the report written by his daughter). Holliday would recover enough of his health to live seven more years and try to rebuild some of his former wealth…but as his daughter wrote, "he soon succumbed to the unfinished work of the Yankee prison".
In the photo DeHavilland is wearing a bodice that is held together by a number of different, mismatched buttons but the one most interesting is the Confederate Uniform button at the top. You see, many of the ladies whose loved one went to war, attached a military button (or two) to their clothing as a sign of remembrance and support. And with Melanie's love for Ashley it is no wonder that she wears a button from the uniform of, "her beloved". I believe that this was probably an addition that was brought to Selznick's attention by his historical consultant, Wilbur Kurtz who would have most assuredly known the story of the Confederate buttons and military ribbons worn by those keeping the home fries burning.
Today you can visit the remnants (and there are many) of the REAL TARA,….the movie set from Hollywood that has been in Georgia since 1960. You can see the many pieces of Tara's front where Melanie stood, and also where she sat and visited on the side porch and learned of Ashley's capture, "at Spotsylvania". You can view the cathedral window that framed Melanie as she drug Charles sword to Scarlett's rescue when she confronted the Yankee on the stairs. And you can think of the work it took to make a masterpiece and the stars who brought it all to life.
So Happy Birthday Melanie! Tara still stands and still proclaims the beauty of home and family and celebrates the work you did to make it a masterpiece.
I'll be looking for you all up at the gate.
Peter