When I was growing up an oft heard retort to emphasize something was not really hard to do was, …. "it ain't brain surgery". A few years ago I was told in Williamsburg Virginia that a similar retort in the 1700's would have been, "after all, it ain't furniture making". Well I have never been good at furniture making and I know nothing about brain surgery but I hope to know more of the materials used in the construction of  Tara and maybe learn a little of the techniques used to put it all together.
Presently the plan is to build a building on the Talmadge property to better allow for displaying the set pieces and while that is being worked out I am not content to sit and wait. You see the thrill of this project is not just an opportunity to see the Tara façade, provide tours of its structure and (hopefully) have a hand in its preservation and….soon I hope….presentation in a spacious new well-lit building…..I like to "learn stuff" and there are a lot of questions about the construction of the Tara façade that intrigue me.
My first question is the type wood used to build Tara and why it has survived after 20 years on Hollywood's back lot, 20 years in north Georgia and the past 36 years in a south metro Atlanta dairy barn without completely turning to dust? Considering its age of 76 years the old girl is looking pretty good! Maybe we can sell cans of "extract of Tara" at a health spa on the grounds?
My next question to answer is whether the "handmade hinges" for the tall shutters and the front windows, were truly blacksmith made? I have a couple of friends here in Atlanta metro that have spent some time "making sparks" and so I plan on having them come to the site and give me their opinion of the work involved and if,….truly these were made by a blacksmith and not just some Hollywood "magic".
And thirdly (there will be many more questions but we will stop at three today) I want to know what types of nails they used to put Tara together and HOW DID THEY NAIL SUCH TINY NAILS BETWEEN EACH SLAT ON TARA'S SHUTTER'S! Did they use folks with very small hands or a special tool?…or was it a process that would have taken a very long time to get it done?
Oh,….and one more thing…I have found and identified the "fake" bricks that were used on Tara's façade and know they were officially known in Hollywood as "staff" (thanks to the information from the Construction Museum in Washington, D. C.) but I do not know how to create staff other than to know that it is a combination of clay, water and straw, horse hair and maybe even old bits of cloth. I want to create "staff" so that I can build a wall of it in the display so…I'm waiting to hear from my movie sources for help.
Gone with the Wind is a great story but the backstory of Tara and its creation and its survival is another tale worth telling. Soon I will be calling for those who will give to help finance the construction and also for volunteers who will come and actually work as helpers on the site. But until then please keep buying copies of, The Official Guide to the Saving Tara Project..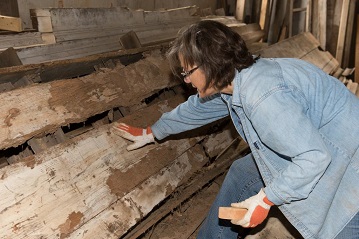 (use the BOOKS link at savingtara.com) telling the story of Tara's preservation….and passing my nam out as one who will come to your location and share the story. There are tours scheduled for May 6,7, 21 and 30 …..I hope many of you will come and tour the site with me.
Until then, I'll be looking for you up at the gate.
Peter