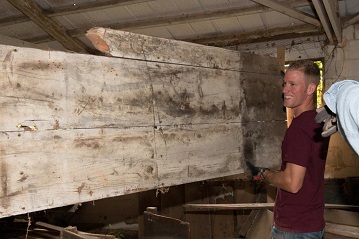 When the Tara façade was dismantled in Hollywood in 1959 it is interesting that the 25 foot tall real brick columns of the front porch were simply pushed over into a bulldozer grave and buried there on the lot. Sure there was little way for the movers to dismantle the huge brick columns and carry them to Atlanta but you would think that someone on the set would have wanted to find a place for them….or maybe it was the displeasure of Margaret Mitchells  ghost that keep them from making the trip to her beloved south.
You see, when Tara was built on the backlot in 1938 the plan called for a structure unlike the one Margaret had described in her book. The Tara of Margaret's book was a plantation plain that had been added on as life made it a necessity and was not adorned with great white brick columns (that part of Tara that Margaret stated she hated more than anything).  When I look over the photos of the Fitzgerald House (Margaret's family home and her model for Tara) before it's dismantling and move to the Talmadge farm, there are a number of rooms that step up or down as though they were added over time…like the description Margaret gives of her beloved Tara.
Today, as the Tara façade rests next to the dismantled Fitzgerald House in the old dairy barn on the Talmadge Plantation in Lovejoy there are no huge brick columns to be seen…there are simply the windows, doors and side porches of the most identifiable movie set of all time. And nearby, resting in the same barn are the hand hewn timbers of the two story home of Phillip Fitzgerald and his family, the home that Margaret would claim as her model for the O'Hara's home.
Maybe the desires of Margaret Mitchell stepped across the great divide and assured the world that those hated columns would never be seen in the same building with her beloved Rural Home (her Tara) or that of Selznick's movie Tara. Maybe today her ghost watches over the pieces so that the hated columns will never arrive safely,….Or maybe it was just good and proper that they were left behind and Margaret and those who had a hand in Tara's story rest in peace knowing that we still honor  their work and the "gumption" that she sought to proclaim.
I believe the later, but a few days before Halloween, a ghost story is also not out of the question.
I'll be looking for you up at the gate.
Peter