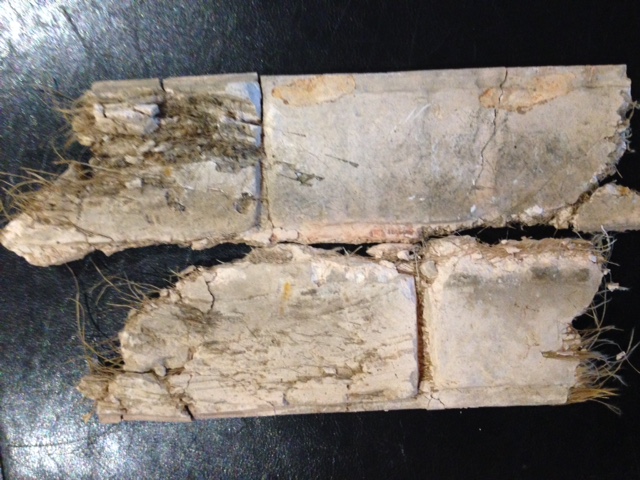 After a recent round of questions regarding Tara's construction I thought I might share what I have learned of the construction of Tara over the last year.
Over a year ago I was convinced that Tara was a façade made from a 2×4 frame covered in thin plywood veneer that was covered with "particle board" bricks painted to look like red clay, painted over with whitewash. I had found what I thought was a brick attached to a piece of a cornice molding from Tara's roofline (yes, we have Tara's roofline in the barn). It was cut in the general size and shape of a brick and was painted with the same while paint. But that was before I found…..the box.
The story of Tara is contained in a box of files compiled by Tara's late owner, Betty Talmadge. Ms. Betty required (and was thus given) documentation of Tara's life on the backlot, trip to Atlanta (along with photos of the "Welcome Home Tara" party at the Capital in 1960) and storage north of Atlanta. She has letters from various participants in the construction and filming of Gone with the Wind and of course a valuation for insurance purposes. But in the bottom of the file box sits a small red box, and in it is a note from Tom Jones, the restoration expert who inventoried Tara for Ms. Betty in the 1980's. The note says that the box contains one of only a few of the "clay bricks" of Tara.
That's right I said, "clay"…..Tara's bricks were not made of paper mache, and they were not all constructed out of particle board cut to look like handmade bricks,….Tara's walls were 2×4 frames covered with large sheets of plywood veneer that had sheets of clay brick the thickness of tile, attached to the veneer with wire mesh. The tiles that I discovered amongst the roofline (where I found the particle board piece) still had red coloring to them, along with a coat of white wash. These tiles appear to have been laid out on the veneer and then etched to show the grout line, and after drying were then painted before being attached in sheets to Tara's walls.
A number of months back (it seems like forever) I had the privilege of showing Tara to curators of the Construction Museum in Washington, D.C. (who knew they had such a thing) and they explained that the clay tiles were known as "staff" and were regularly used in the early days of Hollywood's film production. They went on to say that many of the early homes in the area around the studio complex had "fake brick facades" created by set construction crews from the studio who were looking for extra work. Upon closer inspection they believed that the straw in the bricks might be horse hair (since it is a blonde color maybe it came from Roy Rogers horse, Trigger?) which was also known to be used in the clay tile construction going on in Hollywood at that time.
So today's photo is of a wall of Tara and photos of the brick tiles that this grand dame of Hollywood has given up to my research. She is a sneaky old gal, trying to maintain a little mystery in our relationship but she needn't worry that I (or any of my crew) will grow tired of our time with her.
Many have asked when the work will, "be finished" and my response is that the project is ongoing (like that of the restoration of the Confederate Submarine, Hunley) and so they should come and visit now so that their fees will further the work. You can tour the site and see the artifacts and hear my stories if you will just contact me to set a date for you and your ten friends. With the change in the weather, it will be a great time to come and, "eat, drink and see Tara" (copyright 2015).
Peter