Over the last few weeks there have been calls for all Confederate symbols (and artifacts) to be destroyed. A number of writers have written that Gone with the Wind, with its Southern characters and a sympathetic (in their words) portrayal of the south, should be removed from book shelves and never again shown on a big screen (or even a little one). While I dare say I doubt if any of those calling for Gone with the Winds destruction have taken the time to really read the book or study the movie (for if they did they would see how unsympathetic the south is portrayed thru Scarlett and her costars), do they have a point that it is time for it to be shelved forever and the Tara façade be covered with a few old feed sacks and put back to bed like Rip Van Winkle?
It was exciting when the Saving Tara Project first began. It was an opportunity to walk amongst the most recognizable of all movie sets. It was an opportunity to remember the stars who breathed life into those pieces. And for a storyteller like myself it was a chance to "ply my trade" by bringing folks to the old barn and sharing the tales with them. And as a confirmed entertainer and camera hog, it was another adventure to share and claim as a "first" on my resume.
Well, I have been working on this for over two years now and seen a number of successes, a barn full of relics rather than a barn full of junk piled on top of relics. A brand and story that has gone around the world and back and a book to prove that Tara still exists and that it wasn't lost in Hollywood (like so much of the past) some fifty years ago…and a new group of friends that answered a call for volunteers and never left…..along with a long list of supporters from all over the world who regularly check in and send their encouragement. The facebook site has gone from just myself and my wife to almost 23,000, and a new website/blog has just come online…but is all this for naught and are we just spinning our wheels?
That is the question for the day as I wonder where to go from here. I am still trying to sell books and bring in tours. I am still hoping for help to either build a building on the Talmadge property or take the Tara façade to a location near its current address as the story it tells is so closely tied to the area (as Wilbur Kurtz said), "from Jonesboro to Lovejoy".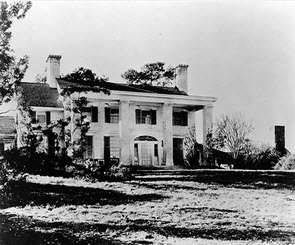 I'll be looking for you all up at the gate.
Peter