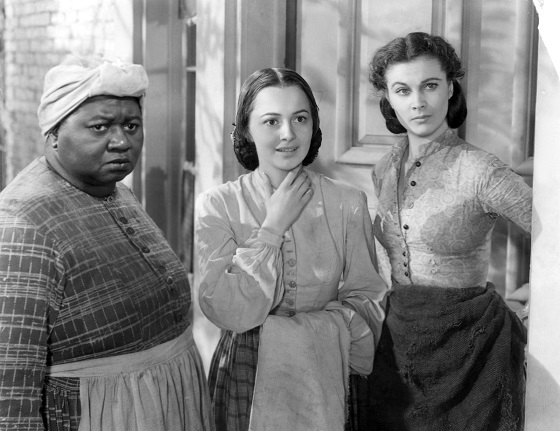 While many have referred to Gone with the Wind as propaganda over the years or claimed that its tale was nothing more than the sympathetic southern "lost cause" pamphlet in jumbo size,….none have come forth to face my research and deny what I have documented. In fact on a number of occasions I have even sought to "pick a fight" with the doubters, the media and some attorneys who I dared to show up to see if the facts I present could "get a conviction" of truth in court.
Now, there's a new crop of doubters and this time the focus is on the stories of those who lived as slaves during the period of the "late unpleasantness" (as the little old ladies referred to the Civil War in later years). According to those making the accusations, Gone with the Wind showed slaves living and working along with their masters with little animosity or desire to flee and thus it must be labeled a lie and nothing more than southern apocrypha (false documents). But how is it that a group of folks who never ventured south of the Atlanta Airport (if they came to Atlanta at all) could say for sure that none of these tales did or did not happen?
When I started my research in 1994 I found a statement by Margaret Mitchell that, "practically all of the incidences (in GWTW) are true" and that "the little maid Prissy was a real person". Later I documented Prissy living before, during and after the war in the area near Mitchell's great grandparent's home. I went on to document stories of Prissy and her mistress getting sick after, "tending to the white trash" nearby but neither of them succumbing to its effects. And I even found a notation for another slave named Pork arriving to serve on the plantation just before the Yankees took over their house during the Battle of Jonesboro.
But that is not all for I documented numerous males and females of color who continued to stay on the Plantation in the area and even fight back against the Yankees soldiers. I found that they risked their lives to save white males and females of the area as well as Confederate soldiers wounded on the field. In short I documented more than a dozen tales of slaves doing that which Margaret Mitchell wrote about them doing in her book,….and what Selznick in turn presented in film.
But the difference between my research and those who seek to dismiss it is that I do not take the stories of those few and claim they represent all. The fact that there were people in the area that, as Wilbur Kurtz said, "filled the pages of Gone with the Wind" is simply a fact of history. But I doubt there will be much media attention toward what I have learned (and wrote about in my first book, Lost In Yesterday) as they (media and their shills) seem to prefer finding some professorial egg head who, "toes the party line" to simply spout their ignorance for the coin of the realm. They will not walk the streets of Jonesboro, Lovejoy or Fayetteville with me to learn the truth so once again it will be little more than slander.
But the question still arises; do we dismiss it (Gone with the Wind), hide it or curse it because it may not fit neatly into a preconceived idea or argument? Are we to practice "book burning" on Gone with the Wind because the ignorant refuse to read and study the facts? Or do we stand to our feet and as adults make note of the interesting stories of this time and place, understanding that while, "life imitates art" it takes more than a few stories from a historical moment to make a case for or against. Shall we renew again the pledge to follow the truth wherever it leads so that our historical foundation is founded in facts? Or shall we follow the intellectual cowards who continue to lead the charge…to the rear?
I myself will continue to share the information to those with the courage to come and see. I have long since, "crossed the Rubicon" (look up the reference) and there will be no turning back. The Tara façade was a movie set based on a book which contained the true stories gleaned like wheat from histories field and I will continue to serve up the bread from that field to all who come hungry.
Peter