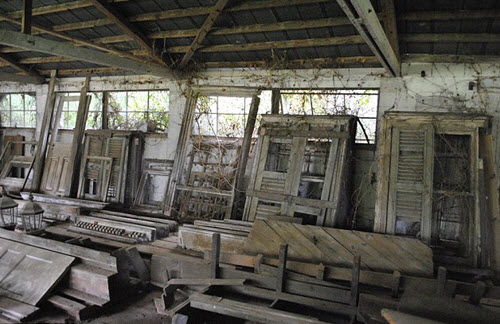 I have always said that there is nothing to hide and nothing to "edit"  from the story of the Tara façade. Its story is one for the ages and its tale in all of the good or bad should be told in its entirety. I have been successful in my work for the past twenty years by laying out the stories I find in the history books in the  same wrapping they came in, "dirt and all".
So with that in mind, this morning I'm trying something new with the Blog site by linking another site to it. I have mentioned the work of Tom H.  Jones who was hired to inventory the pieces of the Tara façade in Ms. Betty's barn and to help with the restoration of the Tara front doorway that is presently on loan from the Talmadge family to the Margaret Mitchell House. On the first day that I brought my volunteers to the Dairy Barn/Museum we cleaned out the go carts, lawn furniture and old toilets (things found in every museum) and then attached new inventory tags next to the ones Tom and his team attached to the pieces of the façade in the 1980's. We quickly learned that his research could be tagged on our phones and used as a ready reference as we dug thru the dirt to find the pieces of Tara, and after a year and a half of work in that barn we still refer to Tommy's page regularly.
His work was invaluable in getting me started in the right direction and his name deserves a place amongst the names of those who brought Tara from Hollywood and worked to find it a place here in Georgia. His story of the Tara façade is concise and compelling and should be shared with all you, my fine friends for as I said before, I am here to share the truth of the story.
Enjoy.
Peter
Tom Jones tomitronics page tells the story of Tara's travels